---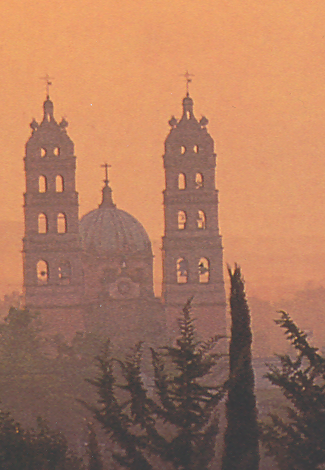 This "big two hearted" little town…this heartland town of Mexico, called San Miguel Allende, lies in the highlands of central Mexico in the state of Guanajuato. The area is locally called the "Bajio" for a vast plateau of fertile soil and rolling hills that encircles the city.
During the June-October rainy season, the semi arid countryside bursts to life with pink, yellow and blue wild flowers. The ring of foothills acts as a splendid backdrop for the most heavenly sunsets ever!
San Miguel is a 450-year-old Colonial town. It began as an Indian mission and was later drawn to the silver mining era with the mines that were being developed in Guanajuato. Today it is being protected as a national monument due to its historical importance in Mexico's fight for independence. It is for this reason that there are no neon signs, no bill boards, no fire hydrants and no traffic lights.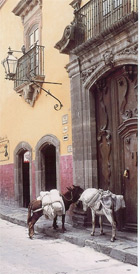 It is widely considered one of the prettiest and cleanest towns in Mexico. The narrow cobblestone streets remain much as they have for centuries. There is a mixture of 16th and 17th century architecture, old churches and elegant haciendas. All of these have sun baked, multihued walls varying in the spectrum of colors from okra to pastels, faded pink, green and blue.
It is fun to see donkeys tethered head to tail and parked at the entrance to a weathered hacienda door. Their backs are loaded high with bundles of firewood, which is delivered door to door on a regular basis.
It is on these same curved cobblestone streets that one encounters the mounted guards, or as we call them "the guardians of the past." They delight tourists as they sit on horseback in all of their Colonial regalia: blue waistcoats with brass buttons, red head bandanas and red waist sashes. Wow!!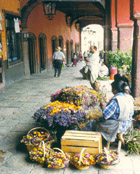 The Jardin, or central park, is also the center of San Miguel. It is a bustling place! On weekends, to the delight of all children, a Clydesdale horse pulls the old ice cream truck right to this central square and there it waits for customers of all ages.
It is not uncommon for a band, also in military regalia, to strike up a march from their spot in the center gazebo, right in the middle of the Park. Along the tree lined side of the Jardin, there are also groups of colorful older women seated along the walls of the arcade. At the break of dawn, they walk from long distances to set up their baskets of dried flowers which they sell to interested customers. As the day progresses, they generally participate in this communal life that centers around this "pulsating heart" at the center of San Miguel!
The park offers this same right of participation to anyone interested. It is filled with not only musicians but mothers enjoying after school outings with their children and teenagers taking a ritual stroll around the garden with their friends. There are a series of benches that allow for great people watching for Americans and the favored pastime of the locals, is just watching the day go by!
When the sun goes down, thousands of "grackles" make a fantastic ruckus returning to roost in the laurel trees. In all directions from the Jardin apex, there are fun side streets with shops, restaurants, churches and academies or "belle artes" (these for artistic and academic endeavors). Not surprisingly there are also tortilla factories. It is great fun to walk up to a tortilla counter with a smile and a peso and receive six to eight wonderful hot tortillas and a broad smile in return.
---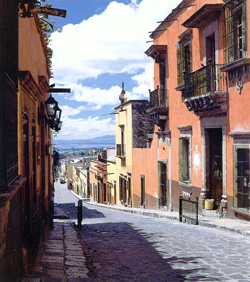 ---
It is along these same winding streets and from behind high walls that one is often treated to a surprise glimpse of an inner courtyard. Each "peak" is a unique and charming experience. Courtyards are alive: some with gurgling fountains, some with intricate wrought iron balconies, often with cascading bougainvillea and the blooming purple jacaranda in Spring. All are wonderfully private areas with elusive and fascinating pasts.
There are a myriad of details that delight the senses! Aromas and flavors seem to come from every direction. Usually at dusk, for example, wafts of tantalizing smoke descend on the street from the local Mexican cooking fires. Once experienced, this inebriating mesquite smell will forever haunt and forever signify Mexico!
San Miguel is often described as having a perpetual Spring like climate. Rarely does it get overly hot (even in midsummer) and although winter days can get "nippy", it is generally temperate (Although sweaters are best kept on hand).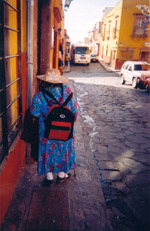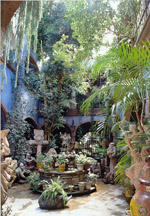 It is widely known as an artist's community. Guests confirm the welcome of the Mexican people. The town is family oriented and no matter how poor, there is a warmth and genuine kindness of the people shown towards visitors. This radiates from their smiles and the eagerness to be of help in any way possible.
The contagious Mexican love of life further manifests itself in the wealth of fiestas and celebrations, as many as one or two per month. That is 30 or 40 fiestas per year! They are held with daily fireworks displays (see monthly calendar of events). It is said that the Spanish viceroys had told the San Miguelians to stop the fiestas and get back to work. This order was obviously to no avail!
Most of the fiestas are of a religious nature and combine social activities and spiritual expressions! People practice Catholicism with fervor: pilgrimages, all night vigils and 4:00 AM fire rockets are performed in an effort to get God's attention to the people's prayers.
Often on festival days, eight foot gessoed manikins are paraded through the Jardin all sporting bright colorful faces, big smiles and amusing costumes. These caravans attract a parade of onlookers, children and stray dogs. January 17, for example, is a saints day for the blessing of animals. Favorite farm animals are decorated and taken to the town's churches to be doused with holy water.
Guests are often treated to the special sounds of San Miguel: fire crackers, school bands rehearsing, dogs barking, roosters crowing, as well as the ubiquitous church bells that ring with different frequencies throughout the village. They announce births, deaths, baptisms, as well as fiestas. There is even the distinctive metal clanging of a person announcing with a triangle, a garbage truck or the various elected sounds for fresh milk delivery or knife sharpening. Each announce a different service.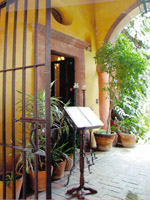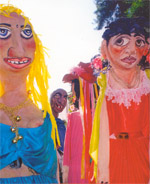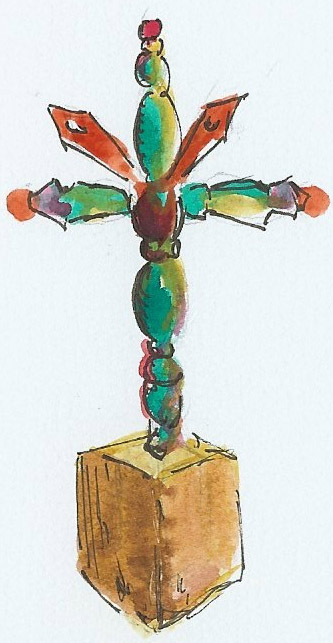 As one of the liveliest artist communities, collecting an array of international artists, musicians, and writers, San Miguel can boast a rich and varied entertainment and cultural calendar.
The cultural scene offers everything from prestigious chamber music to cabaret and jazz. There are numerous dance performances, films, theaters and an abundance of lectures and classes to explore.
The town's cosmopolitan character is further reflected in the amenities it can provide: fascinating boutiques, galleries and superb international restaurants of all tastes (see restaurants). Prices are extremely affordable! It is little wonder that San Miguel has consistently been ranked among the best places in the world to visit or retire. Stories have been written in the Conde Naste Traveler, Travel and Leisure, Modern Maturity and Money Magazine.
Visit the San Miguel Allende web site