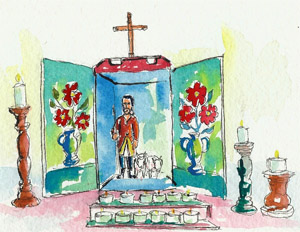 San Miguel celebrates 30-40 festivals a year (see complete calendar of the festivals). It is known far and wide for them. Festivals are celebrations of religious expression which are practiced with fervor. The locals will go on religious pilgrimages, attend all night vigils and the ringing of church bells. Here is an explanation of some of the main events. Which are listed below:
---
January 17th
---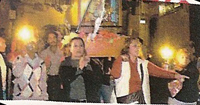 Blessing of the Animals
In the morning, locals bring their favorite pet or farm animals to the neighborhood churches to be doused with holy water. They are often decorated with head wreaths, beads, ribbons and other religious symbols that are dangling from their necks.
---
1st friday of March
---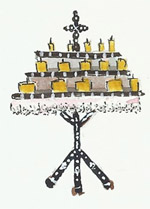 This festival is celebrated with a 16th century rendition of Christ, which represents the acceptance of Christ by Mexico's indigenous people. It occupies a place of honor inside La Parroquia. According to legend, the sacred person, which is fashioned from corn stalks and orchid bulbs, was brought to San Miguel originally from Pátzcuaro. On Fridays Chichimeca dancers, resplendent in plumed headdresses, burn incense and dance on Friday in the atrium of La Parroquia. The faithful recite 33 prayers, one for each year of the life of Christ, all amid fireworks — even oxen are decorated for the occasion.
---
Easter
---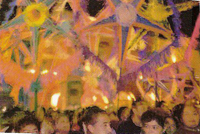 Our Lord of the Column
Two Sundays before Easter, a procession departs at midnight from the Santuario at Atotonilco bearing the image of El Signor de la Columna represented with a life size statue of Jesus who is leaning against a column. He is dressed in a purple loin cloth and covered by hundreds of scarves provided by women in the area. The corteqe frequently halts for prayer and loud hymns. Fireworks and church bells ring when they finally arrive at their destination; a mass is later said just before dawn at El Templo de San Juan de Dios. The scarves are then removed and safeguarded for other religious ceremonies that take place during the year.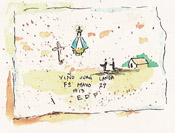 The two weeks prior to Easter represent the most colorful, solemn and holiest days for San Miguel's inhabitants. Many traditions used today in their festivals date back to the earliest of Mexico's origins. The glorious processions and pageants illustrate the true essence of these deeply religious town people.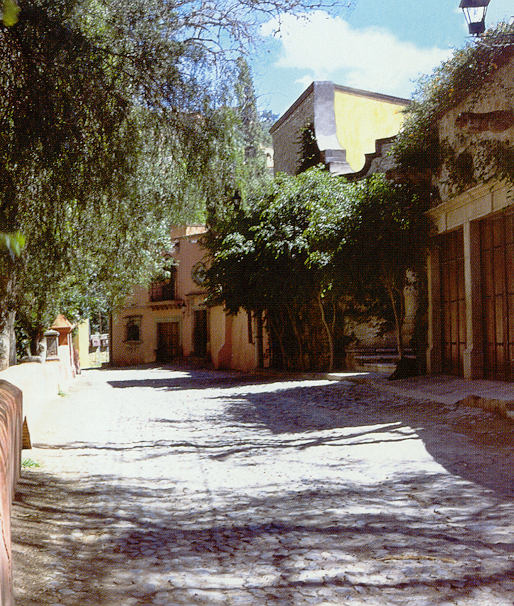 Prior to Easter the four dozen fountains in town are cleaned and decorated with flowers that are mainly lilies and chamomile plus purple and white crepe paper and chairs of fruit, especially oranges. The beautiful home alters—some simple, some elaborate—are constructed around the the image of LaVirgin de los Dolores. Guests are invited to inspect them that night and welcome them with small gifts of candy, nuts, fruits and drinks.
On Palm Sunday, vendors arrive at dawn in the churches and markets with intricately woven palm fronds in shapes of crosses and vessels. Many of these are decorated with small religious emblems, purple thread and chamomile. Later in the morning, processions troop to churches where priests bless waving palm fronds.
From Juárez park to Sollano the street and homes are decorated with paper, real flowers and chains of crepe paper. In all of the following days prior to Easter, holy processions wind through town.
On the Friday of Holy Week, at noon, a court is convened in front of La Iglesia de San Rafael (Next to La Parroquia) where Jesus is tried and consigned to his fate.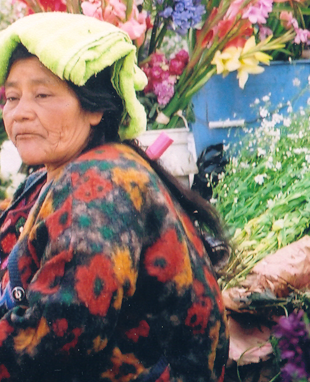 At 5:00 PM at El Oratorio del San Felipe Neri, the procession of the Holy Burial leaves with the body of Christ. This is the most profound spectacle of the year. Every adult, except for the brightly clad Roman Centurions, dresses in black – the men with purple sashes and gloves, the women in veils, and the little girls all in white with baskets of rose petals.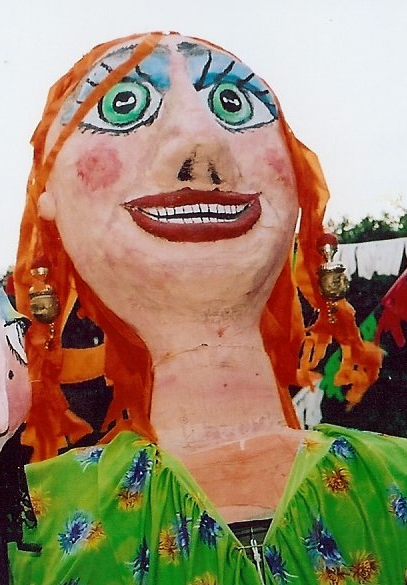 The cortege winds through the streets paced by a drum beat. Shortly after dusk, the pageant moves up Mesones street, its entire length illuminated by the soft glow of candles.
On Easter Sunday, the six-foot-tall papier maché and crepe paper Judas figures are strung along the streets. This Easter tradition originated in Colonial times and has been kept alive for 60 years by the local craftsmen. Effigies representing hated politicians, persons in authority, and even a cartoon witch in a comical hat are hung throughout the morning. Small rockets are lit one by one, and each figure twists and turns until a loud explosion shreds it to bits of paper and cane.
The Festival of the Holy Cross
The Festival of the Holy Cross commemorates the discovery of the Holy Cross by St. Helen (mother of Emperor Constantine). Pre-hispanic rituals of vigils, cleansing and dances are observed throughout the area.
---
May 30
---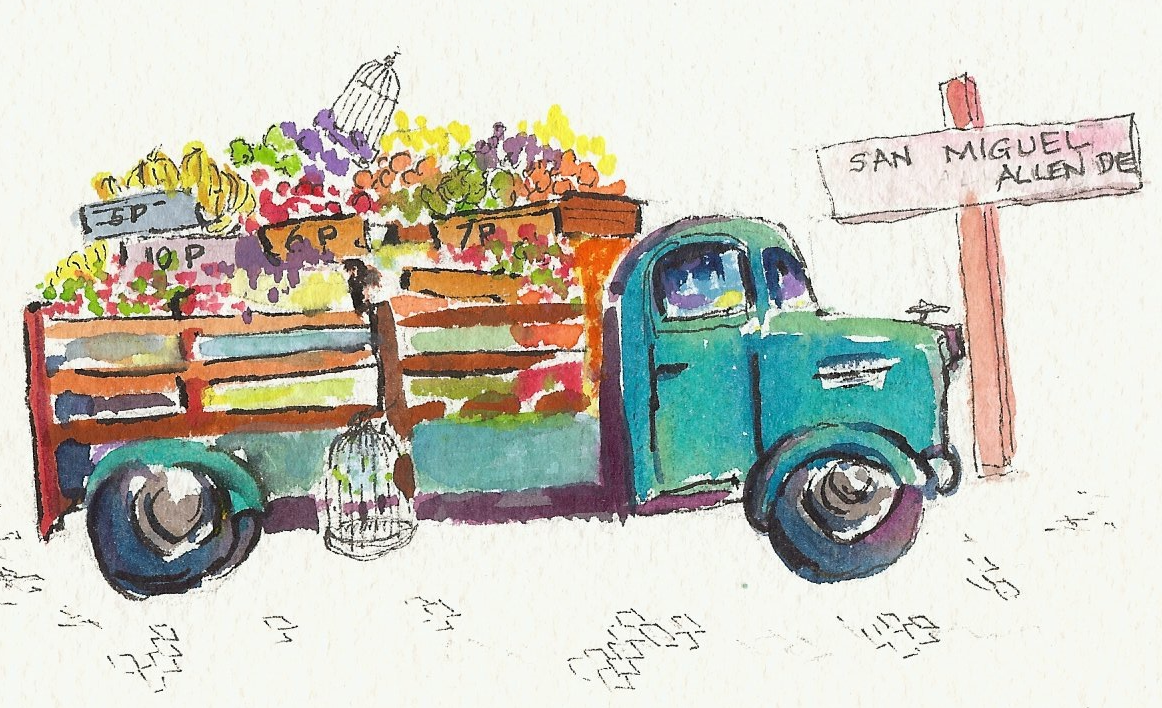 Fiesta de los Locos (Festival of Madmen)
For this fiesta, the locals dress up in carnival costumes and participate in a parade that weaves through the town center. There is a caravan of badly worn produce trucks that are decorated and spread out between the "locos" or transport groups in their bright and crazy attire. Women adopt the attire of their favorite celebrities, and men often dress as women, animals, disgraced politicians and monsters. This stream of characters throws candy to the onlookers. This holiday actually began many years ago when the San Miguel Valley was rich in fruit orchards. The Spaniards would permit only one day of "fiesta" following the harvest. The name "loco" undoubtedly derived from the ruckus and party atmosphere that ensued.
---
June – Around St. Anthony's Day
---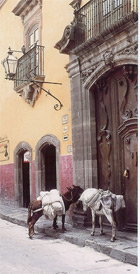 The Festival of the Patron Saint of San Miguel
Preparation for this festival begins in August, however the September 29th festivities actually begin when a runner with a torch arrives at Allendes home in center Jardin and a version of Father Hidalgo's cry for independence is read from the balcony. From this motivation San Miguel el Grande and Dolores had decided to take up arms. Their secret plots to overthrow the Spanish government had been discovered. This fight signifies the beginning of Mexico's independence from Spain. During the main days of this festival, there are weekend bull fights and a running of the bulls similar to that of Pamplona in Spain. Young men and some women prove their virility by running in front of the bulls. There are many college students and young people carousing around the Jardin with a drink in their hands.
---
August – September
Preparations for this festival
---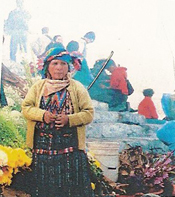 The Day of the Dead
This is an unofficial holiday bringing color and splendor to homes and cemeteries while a communion takes place for departed loved ones. This reflects the Mexican belief that the past is not dead. Elaborate altars are built in homes and elsewhere. When graveyards are visited a trail of marigolds is often laid so the dead will be able to more easily find their way home. Cemeteries are full of people cleaning gravesites and bringing flowers, food and drink to their ancestors. Death is mocked with the practice of making candy (sugar or chocolate) and bread that depicts skeletons and skulls.
Christmas Fiestas
Christmas is quite magical in San Miguel. Posadas (Inns) represent the nine day journey of Joseph and Mary from Nazareth to Bethlehem. A pair of two young children are selected in each local neighborhood, to enact Mary and Joseph's search for an inn. They ride a burro and are dressed in appropriate costumes. Mary carries a baby doll while other children are dressed like angels. The children are young and starry eyed at the importance of their endeavor. Their expressions are priceless! Mary and Joseph are followed by a caravan of locals along their route. They make stops at homes along the way where instead of being turned out, they are invited in for Christmas candies, tangerines and Christmas punch. Different homes each night host caroling and breaking of a piñata. Passion plays are performed in many locations as well. The last posada departs around 7:00 p.m. heading toward La Parroquia where a manger of live lambs has been assembled. On Christmas day, church bells and fireworks herald the birth of the baby Jesus.
2007 CALENDAR OF EVENTS
*Indicates Legal Holiday
*January 1 : New Year's Day.
January 6 : Three Kings Day; Giving gifts to children.
January 17 : St. Anthony's Day; Blessing of the animals in front of Parroquia at San Juan de Dios and San Antonio and La Salud.
January 21 : Birthday of General Allende: Hero of National Independance.
January 24 : Departure of Pilgrims for San Juan de los Lagos.
February 2 : Candelaria Day: Sale of seeds and plants in Parque Juárez to begin planting season.
*February 5 : Constitution Day
March 1st : Ash Wesnesday, start of Lent
March 3 : First Friday in March: Indian dances in front of Parroquia.
March 15-17 : Celtic Festival in honor of St. Patrick.
March 19 : Feast of San Jose.
*March 21 : Birthday of Benito Juárez.
March 25 : Two Sundays before Easter; Image of El Señior de la Columna is carried from Atotonilco to San Migual.
March 30 : Friday of Dolores, Day of Altars in the homes. Street fountains are decorated.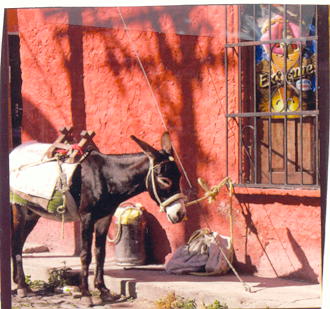 April 1 : Begining of daylight saving time.
April 5 : Day of the Altars in the churches.
April 6 : Good Friday, Evening procession of holy images.
April 8 : Easter Sunday.
May 1 : Labor Day.
May 3 : Feast of Santa Cruz: Day of masons and builders.
May 5 : Anniversary of the battle of Puebla.
May 10 : Mother's Day.
May 15 : Day of San Isidro: Patron of Rain and Agriculture. Village priests bless livestock decorated with garlands.
May 17 : Ascension Day.
May 27 : Fiesta at Valle del Maiz.
June 7 : Corpus Christi Day: Procession of Blessed Sacrament through the streets; gifts for children.
June 17 : San Antonio Parade of Locos.
June 26 : Anniversary of the death of General Ignacio Allende.
July 8 : Feast at Atotonilco.
July 16 : Feast of the Virgin del Carmen.
July 30 : Anniversary of the death of Father Hidalgo.
August 8 : Feast of Santo Domingo.
September 13 : Commemoration of the death of the Child Heroes.
September 15 : Independence Grito, Fireworks and Celebration.
*September 16 : Independence Day Parade A.M.; Arrival of the Insurgents 6 P.M.
September 29 : Arrival of the Indians with Xuchiles, Conchero Dances, Bullfights and Castillos.
September 30 : Feast of San Miguel Archángel.
October 7 : Feast of San Francisco.
October 28 : End of daylight saving time.
November 1 : All Saints Day.
November 2 : All Souls Day – Day of the Dead: Food flowers and candles in the cemetery. Most important religious and Indian festival in Mexico.
November 20 : Anniversary of the Revolution of 1910.
November 23 : Thanksgiving Day in the US.
December 12 : Feast of Mexico's Patroness: Virgin of Guadalupe.
December 16-24 : Posadas.
December 25 : Christmas Day.
December 31 : Traditional midnight suppers and religious services.