---
San Miguel is known for its fabulous restaurants. They are the best quality and variety of any city of its size in Mexico. The selection varies from Mexican to international cuisine with a vast selection of prices and ambience. It usually isn't necessary to reserve a table except during festival times.
Here are some favorite picks:
---
Breakfast Favorites
---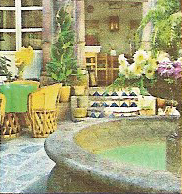 Café de la Parroquia
Jesus 11 415-1523161
This is a favorite breakfast place with the locals! The delightful inside courtyard has outdoor tables set up with speedy service. The menu has Mexican breakfast favorites. While you wait for your order, it's fun to browse the bookstore just to the left of the entrance. They carry a good selection of books in English. There are two cages of yellow canaries hanging in the lateral trees that are a delight with their on and off singing while you dine.
El Pegaso
Corregidora 6 415-1521351
This fun corner café just off the Jardin has a varied menu with a lot of American favorites. The breakfast is tasty. They also have a good selection of sandwiches and a great array of American cakes (chocolate, lemon, vanilla, etc.) that are baked every day. This is a great place if you yearn for a bit of American cooking. The service is great and there's no doubt you'll be fast friends with the servers by your second visit. Fernando would love to bring you one of his homemade sandwiches on Sunday (his day off). They're quite tasty and prepared in a clean environment. He carries baskets of them around town to make extra pesos for his family.
---
For Sunday Brunch
---
Harry's New Orleans Café and Oyster Bar
Hidalgo 12
See dinner restaurant review.
415-1522645
Patsy Du Bois
Rancho Las Hadas Madrinas
Road to Dolores Hidalgo
415-182151
Cell: 004 415-1535303
It's only open for Sunday brunch, but any local will tell you that it is quite a treat. Her chocolate chip cookies are the best. (See Catering)
---
Lunch Suggestions
---
Hacienoa Landeta Andreas or Restaurant DaAndrea
Carr. a Dr Mora (Km. 25)
415-1203481
It is located south of the second glorieta on Boulevard de la Conspiracion (Taxi fares are approximately 200 pesos or $2.00, but ask before you ride). This delightful place is considered one of the authentic San Miguel restaurants. It is open four days a week and is very nice for lunch on their intimate, open-air patio amongst trees and rows of vegetable gardens. Reservations are suggested; it's a favorite with out-of-town Mexicans.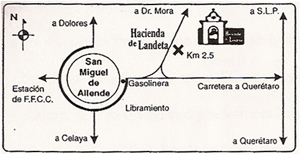 Olé Olé
Loreto 66
415-1520896
If you're hungry for fajitas try the eight varieties here including: beef, chicken, shrimp, ostrich or combinations. These are all served sizzling and accompanied by guacamole, corn, or flour tortillas, sour cream and varieties of salsas. As the name suggests, you dine in an atmosphere of bullfight memorabilia: large posters of bullfights, photos of beloved fighters and even a bull in the entrance with its horns down and ready to charge. With its very reasonable prices and being located only a few blocks away from the artisans market is a great place to go after being at the artisans market in the morning.
Hecho En Mexico
(Ancha de San Antonio 8)
415-1546383
For a good sandwich, this is a favorite place with the "gringos". It's on the right of the Accademia in a good, central location. You can enjoy dining either in their open courtyard or in the inside dining room. The service is good, and the hamburgers are just like home!
Some local favorites here are chicken fingers and the black corn mushroom "huitla coche" fondue and the brownie dessert topped with ice cream is divine!
Belle Italia
Canal 21 (corner of Hernández Macias)
415-1524989
If you've spent your morning shopping along the streets around the Jardin, stop here just off the main square for the best, most authentic Italian food outside of Italy. The owner is Italian! If you have the time, order "risotto con porchini" with mushrooms, asparagus or shrimp. It is well worth the wait. In fact, all the Italian specialties (including duck breast with blueberry sauce or crab meat pasta) are superb. The pastas include fresh spinach ravioli.
---
For Romantic Dinner and Dining
---

El Campanario
Canal 34
415-1520775
This is a dream! There is no lovelier place than this second floor patio that overlooks the rooftops of the town and the country side. Try to get a table before the sun sets and see the heavenly view. It's also wonderful to sit in the indoor cozy restaurant with authentic "boveda" brick ceilings with a lovely view from the open windows and a huge bar at the far end. As dusk turns to night the candles are lit and there is guitar music most nights to lift you into nirvana. The food is delicious with an international menu.
Romanos Restaurant Bar
Hernández Macias 9
415-1527454
This centrally located Italian restaurant is known locally for its divine, extra thick, grilled pork chops. There are four floors for dining, but a favorite is the intimate rooftop, which is partly covered with lattice and vines. You will feel very much as if you are dining out on the small patio of a private home in San Miguel.
Casa de Sierra Nevada
Hospiclo 35
(Near Benito Juaréz Park)
415-1527040
Built in 1580 as the Arch Bishop at Guanajuato's residence, this elegant country style inn still attracts ambassadors, diplomats, and film stars. The ambience is one of antiques, lovely chandeliers, fireplaces, flowers, plants and cozy terraces. It is a true escape from the modern world! The hotel has incorporated a number of private town houses around town. It is a great spot for a more elegant dinner. The menu offers refined versions of Mexican cuisine with sweeping views of the park.
---
The Most Fun Dinner Places
---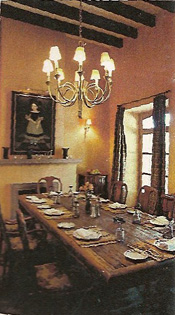 Harry's New Orleans Café and Oyster Bar
Calle Hildalgo 12
415-1522645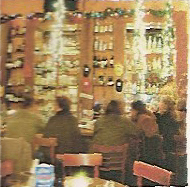 This bustling place is the spot in town to "see and be seen", particularly if you're a "gringo." A favorite is to gather around the bar, usually filled with jostling people and talk to your neighbor or perch on one of the small side tables, sip a margarita and have popcorn. There are often "two-for-one" margaritas during the weekdays. The dining rooms are also great for a reprieve, particularly the ones that look out onto the street. You can snack on chicken wings and then move on to Black Angus steak, mussels, crab cakes, fresh crawfish, or lobster. The chocolate truffle cake dessert is the number one best ever!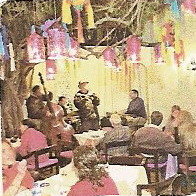 Tlo Lucas
Calle Mesones 103
415-1524996
This fun and lively restaurant is always packed! The tables circle around a center stage for live jazz that is always good. Try the guacamole for starters followed by their excellent beef and chicken courses. Their desert crepes sussete and banana flambé, are a great final.
The Berlin Restaurant
Umarán 19
415-1549432
This bar is where you would have found Humphrey Bogart sipping a cocktail. The same man who runs the inexpensive shuttle to and from the airport owns this restaurant. When you enter you'll see the bar that takes up the entire left wall and you can dine at the small bistro tables in the corner of the bar area or in the intimate rooms just ahead. The walls are decorated with roguish paintings of Peter Leventhal, a local artist. A favorite is the authentic wiener schnitzel or breaded cutlet. This is served with a medley of cold salads: cucumber, coleslaw and German potato salad. This is a favorite dining place with the local expats.
La Grotta
Cuadrante #5
415-1524119
This cozy, intimate restaurant is particularly fun on the second floor where tables are placed in front of the high windows. The pizzas are divine. Try the blue cheese with pepperoni. The spinach lasagne, soups and the special homemade deserts are all a treat.
---
For a Drink at Sunset
---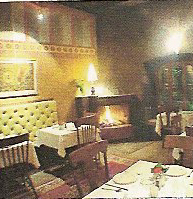 El Market Bistro Petit Bar dinning room
Hernández Macias 95
415-1523229
This is an intimate place for a drink. The cozy atmosphere around the wine bar is fun and it is known for its great wine list. (see bars)
La Azotea On top of Pueblo Viejo
Umarán 6
415-1524977
The terrace spot has a great view from its top floor perch near the Jardin. Couples and friends gather for drinks and a snack at sunset.
San Agustin
San Franzisco #21
415-1549102
This great spot for hot chocolate and churros or a snack after the theater.
---
For the Best Baked Goods
---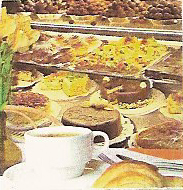 El Petit Four backed goods
Calle Mesones 99
415-1544010
Pastries, French bread, croissants, cakes and coffee.
Open Tuesday-Saturday 10:00 AM
El Pegaso
Corregidora 6
415-1521351
You can order their homemade cakes to take home in chocolate, lemon, vanilla and other flavors.
---
Also see Catering in the Butterfly Tips book.
---