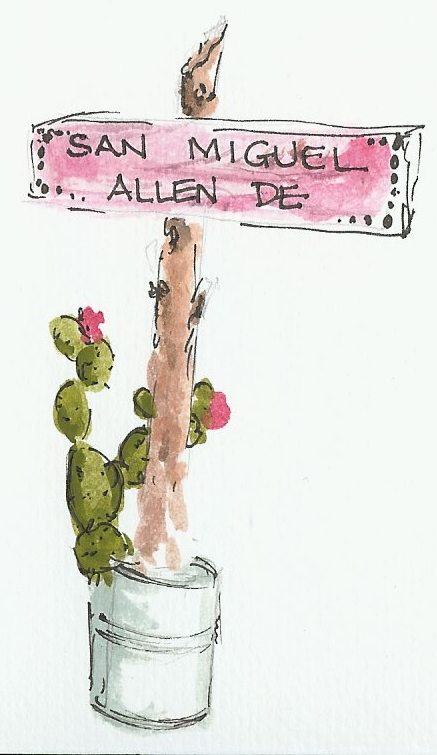 Life in San miguel is rich in local traditions. It is colorful in its local charm, fascinating in its mix of old and new and fun its bounty of things to do. It mixes the best aspects of small town life with cosmopolitan pleasures of a big city. San Miguel has grown in stature as a writer and artist colony. This progress dates back to the 1930′s when the first art school was founded. There are literary readings, art shows, and annual chamber music and jazz festivals. For example, in August there is the world-class festival of chamber music, as well as the International Jazz festival which takes place the last week in November.
---
Cultural scene-lectures and classes
---
San Miguel is known for its Spanish, art and cooking schools. These schools cater to English speakers.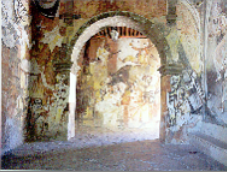 Instituto Allende Calle Anche de San Antonio 20-art School
Tel: 415-1520190
Fax: 415-1524538
www.instituto-allende.edu.mx
This institute was founded by the former governor of Guanajuato, Fernández Martinez and Sterling Dickinson. Today, it thrives in the lively former country estate of the courts of Canal. It is a beautiful space with elegant patios and gardens, art exhibits and murals. It is a divine place to spend a few peaceful hours. One can wander past classrooms of weavers, sculptors, painters, ceramists and photographers.
Academia Hispano Americana Mesones 4-Spanish School
Tel: 415-1520349
Fax: 415-522333
www.ahaspeakspanish.com
It is considered a good and more challenging language school. Classes are limited to 12 people.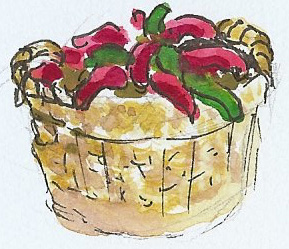 Sazon – Cooking School
Correo 22
Tel: 415-1547671
www.sazonsanmiguel.com
Sazon is a well decorated "up beat" cooking school and store. Classes are taught in a bright, fun atmosphere. Cooking classes include weekly market tours and some special events.
Centro Cultural Ignacio Ramiréz ("Bellas Artes")
Hernandez Macias 75
Tel: 415-1520289
This was the former Convento de la Concepción. Today it is a branch of the Palacio de Bellas Artes of Mexico City.
This lovely two story cloister is surrounded by an enormous courtyard. It has large trees and gurgling fountains. There are a number of art exhibits and classrooms for drawing, painting, sculpture, lithography, textiles, ceramics, dramatic arts, ballet, regional dance, piano and guitar.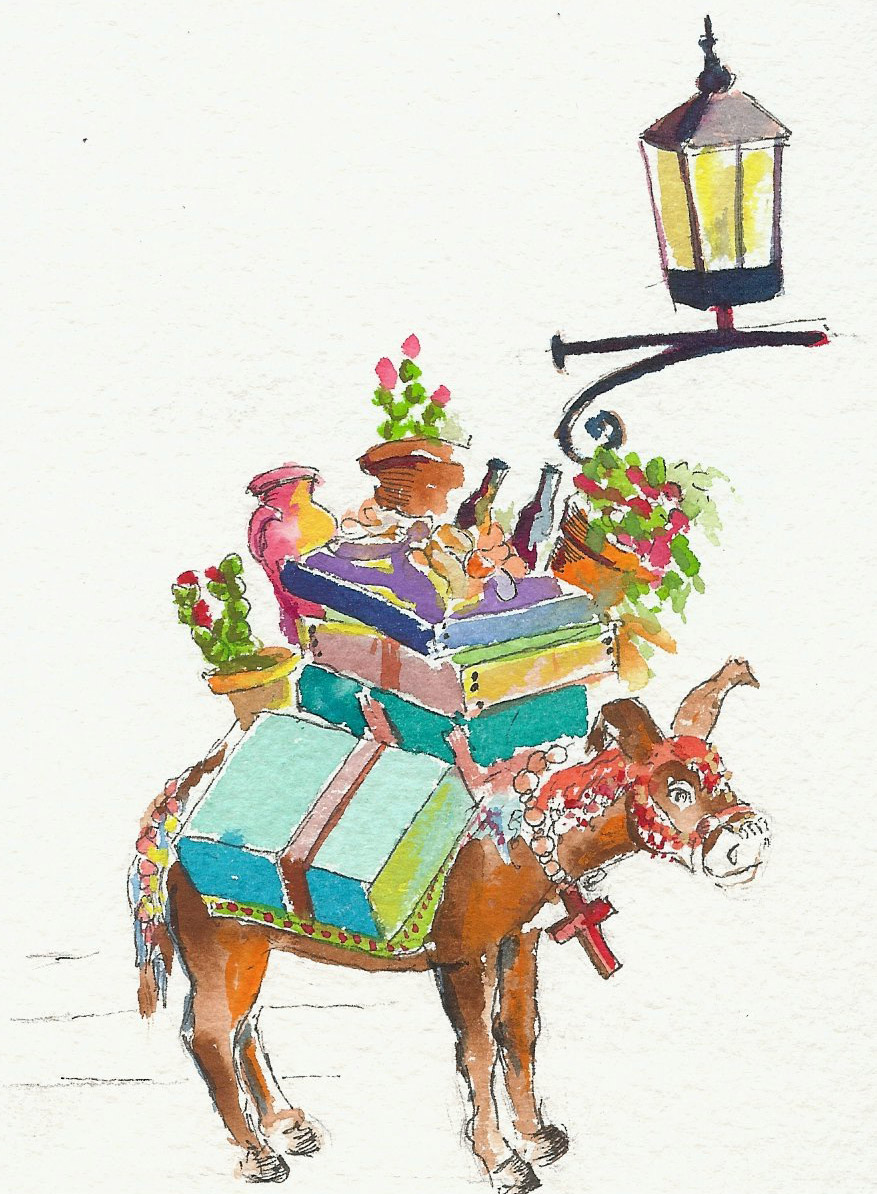 ---
Discovering San Miguel
"First impressions"
---
Trolley Sightseeing Bus
Dates: Tuesday – Sunday
Times: 9:00 AM – 7:00 PM
Cost: $6.00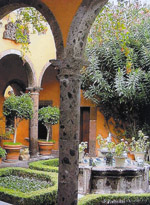 The trolley sightseeing bus departs from the municipal tourist office in the Jardin. The 9:00 AM departure has an English-speaking guide. It gives a birds eye view of most of the city.
The Mirador
"Look out" provides a spectacular view of San Miguel, the mountain, and reservoir, especially at sunset.
San Miguel Walking Tour (sponsored by Patronato Pro-Ninos)
Dates: Monday, Wednesday, and Friday
Time: 10:00 AM-12:00 PM
Cost: $10.00
See San Miguel up close with the walking tour. Starting from the Parroquia, view the town from a more personal perspective.
---
"Take a closer look"
---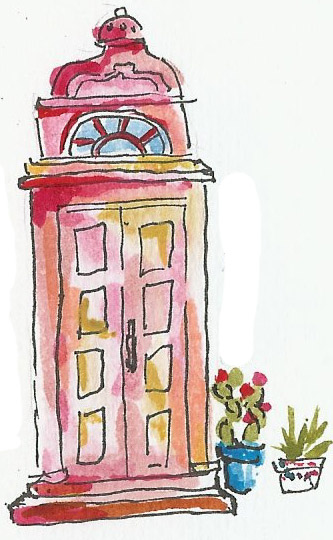 The Centro de Crecimiento Zamora
Date: Saturdays
Time: 10:00 AM-3:00 PM
Donations: $15/person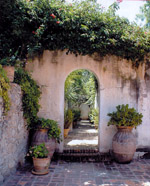 The Centro de Crecimiento Zamora Rios 6 is a donation supported school for children with disabilities. Explore many of the interesting places in the countryside around San Miguel. Tickets are available at Casa Maxwell, a store located at Canal 14.
House and Garden tour
Dates: Most Sundays
Time: 11:30 AM
Location: Insurgentes 25 in the Biblioteca Publica
Tel: 415-1520293
Donations: $15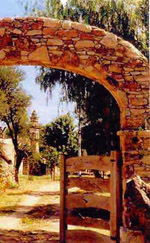 The house and garden tour leaves from the library at 11:30 AM, Insurgentes 25. On Sunday it is sponsored by the Biblioteca Publica and provides a look inside some of the city's most interesting Colonial and contemporary homes. The library itself was the former convent of Santa Ana. On the tour one is likely to see "boveda" brick domed ceilings and roof top cúpolas. There are now over 300 homes in the inventory. Get there early, there is a festive atmosphere in the outdoor library courtyard with a mariachi band, muffins, and coffee. The tour lasts about 2 hours. The $15 donation supports various library projects and the youth of San Miguel.
---
One of the most enjoyable walks in town is through Juárez Parque, which is large and shady. There are frequently art exhibits on the weekends. The Lavaderos Públicos are a collection of red concrete tubs just above Juárez Park. They serve as a public laundry area where local women gather to wash their clothes and chat just as their predecessors have done for centuries. Some women claim to have more efficient washing facilities at home, but the lure of spring-fed troughs and the chance to catch up on the news attract them to this shaded courtyard.
Hot air balloons are fun! Gone with the Wind Balloon Adventures (Calle Recreo 68 El Centro 415-1526735) email: finnworld@yahoo.com offers rides over the town (4-6-8 passengers) with certified pilots from Napa Valley, California. The one hour flights depart at 6 or 7 AM depending on the season. The $150.00 cost includes breakfast upon landing.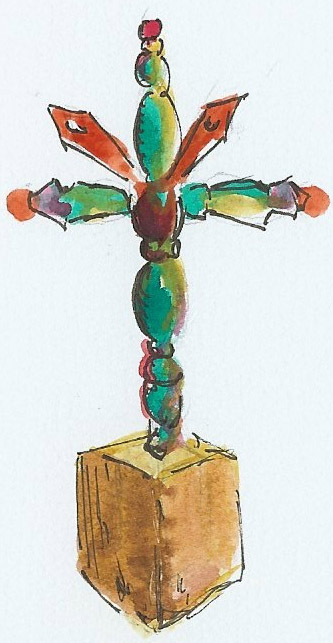 Bull fighting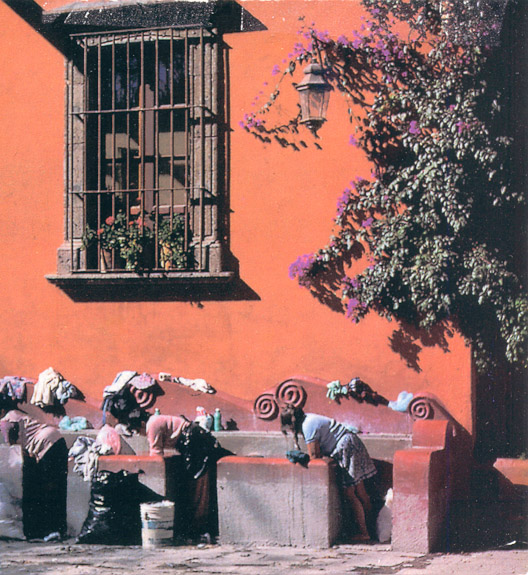 Located at Plaza de Toros Oriente Recreo #52. Most fights are in the Winter season and at various festivals throughout the year. Posters around town and in the Jardin advertise the fights. San Miguel has one of the oldest bull fighting arenas in Mexico. The musical pageantry prior to the first fights is one of the highlights. The "people watching" is memorable as well. Vendors sell rolled paper funnels overflowing with potato chips, which patrons lather with salsa and down with cold beer. It has a way of putting the locals in a festive bull fighting mood.
There are four to six bull fights on the program daily and each fight varies slightly. Matadors fight the bulls on the ground, on horseback, or perform in the Portuguese method of rows of men in stocking caps who form a line and run up against the bull, taunting him until they stop him. Posters are held up between fights that give the bulls name, his age, and his weight, as well as if the bullfighter is a "matador" or an aspiring bullfighter.
Guajuye
The local glass factory (Tel: 1527033; factory telephone numbers 30-34) located at Lupita #2. It is fun to see the art of glass blowing first hand. It is best to make an appointment in advance for Wednesday, Thursday or Friday morning at 10:30 AM. Request an English speaking guide who will explain everything in about 1/2 hour from a single location inside the factory. The glass products are then for sale in their retail outlet.
Los Picachos Santo Domingo #38
San Miguel's orchard gardens. Open 10:00 AM to 2:00 PM Tuesday-Saturday, closed Sunday-Monday ($15 contribution). The manager is Nina Gama (Tel: 152-3820). This was once the home of Sterling Dickinson, one of the founders of the first fine arts school Instituto Allende). It is the largest private collection in Mexico with over 2000 orchids and is located on the ruins of a former tannery. The best time to see the orchids in bloom is between November and January.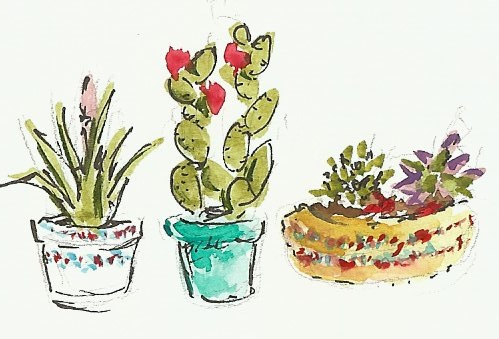 El Charco del Ingenio
San Miguel's botanical garden. Tel:415-1544715. www.laneta.apc.org/charco ($3.00) Two or three guided tours ($5.00) are offered Tuesday 9:00 AM – 4:00 PM Call Mario Mendoza 044-1010338 for reservations. Round trip transportation is available for a small fee.
There is an extensive collection of 850 different species of Mexican cacti and other plants collected from different parts of the country. Much of this collection is housed alongside aquatic species and native fish in the conservatory of Mexican plants, a green house specifically designed for this purpose. This reserve is huge! There are 250 acres around a scenic canyon wetland. It has special pathways for hiking, running, mountain biking and rock climbing. These trails lead to panoramic lookouts, some historical remains, as well as a reservoir where birds and other wildlife abound. Several times a month it is possible to enjoy the ritual herbal steam baths here. The name, for the reserve itself, comes from the mysterious natural pool and springs enclosed at the bottom of the canyon. The Spring Equinox concert is held here every March, as is the Santa Cruz festival in mid July.
---
Sporting options
---
Horse back riding is provided by Coyote Canyon Adventures 415-1544193 (www.coyotecanyonadventures.com)They offer trail riding and overnight camping on their own ranch, which is fascinating. Excursions can be arranged for up to 65 people. There are also special week-long trial rides which go from San Miguel to Guanajuato. For reservations, it is best to send an email to the above web site.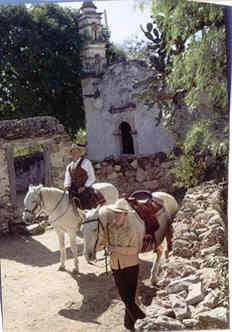 Golf courses, health clubs and swimming pools
(some with tennis courts)
Club De Golf Malanquin
Celaya Highway (3 km)
415-1520516
www.malanquin.com
Enjoy a heated pool, steam baths, a tennis court and 9 holes of golf. These are open to the public for $35 on weekdays or $70 on weekends (Closed monday)
Hotel El Santuario Dolores
Hidalgo Hwy. (13 km)
415-185-2036
www.haciendaelsantuario.com
Located in a renovated hacienda Hotel el Santuario features a 9 hole golf course ($30), a spa with massage and body scrubs and a geothermal pool and jacuzzi. The swimming pool "balnearios" are hot springs that have been turned into swimming pools and are open to the public. Most have snack bars and are within 10 to 18 km of each other and about 15 minutes from Centro.
Escondido Place
Dolores Hidalgo hwy (10 km)
415-185-2020
Has several swimming pools with changing rooms. One of the pools has three domed ceilings where water rushes in directly from the source (lots of fun for children). There are also lotus ponds and changing rooms. Open to the public $8.00.
La Gruta
Perhaps the nicest! (Dolores Hidalgo Hwy KM11) It has 2 pools, one of which is accessed via a tunnel and an indoor cave. It is open daily 8:00 AM-6:00 PM. $7 per person. It is run by Signon Flor de Maria Perez who can be reached at 185-2099. It also has a small restaurant with snacks and cold drinks.
La Toboada
(Aqua Mágica) has a quiet atmosphere reminiscent of an earlier Mexico. It is located well of the main road. (Dolores hidalgo Hwy 8km). It has 3 outdoor geothermal pools, one of which is Olympic size (Great for doing laps)! It also has some grassed picnic areas, palm trees and changing rooms.Open 8:00 AM – 6:0 PM. $4 every day but Tuesday. The best day, in fact, is Wednesday after the water has been changed on Tuesday.
The carnita restaurant La Cruz del Perdon near the Taboada hot springs is open only on the weekend. They cook a whole pig on the premises in a large vat near the entrance. The sliced pork is very tasty and is served with homemade tortillas, guacamole, and salsas. The tables are rustic, the country setting is charming, and the cerveza is cold!
---
Additional Tennis Courts
---
Walter Weber's
1520659 Run by son Walter JR in Callejón de San Antonio 12
3 private clay courts
Very reasonable court rental per hour
Lessons Available
Mauricio Chauvet Hotel Aldea
Calle Ancha de San Antonio (Across from Instituto)
152-1022
Two clay counts w/ tennis pro who speaks some English (Morning adult lessons – afternoon children's clinics)
Daily 8 AM – 7 PM (Sat 8 AM – 2 PM lessons – Afternoon rentals, sun court rentals)
Hotel Real de Minas
Calle Ancha de San Antonio
Tel 1522626
Two new hand surfaced courts – good condition.
Hourly fee for non guests
---
Gyms
---
Ramiro's Club (Called Lobo or Wolf Gym)
Tel. 415-152-2707
Potrero No. 8 (Col. Antonio)
Owner Ramiro Ramirez is bilingual)
Take the street next to the hotel Real de Minas and turn RIGHT. At the first intersection, proceed up to the large stone building on the right. Rates daily, weekly, monthly and yearly.
A personal trainer is available for an extra fee. Racquetball is available.
San Miguel Health and Fitness Center
Plaza Pueblito
Stirling Dickinson 27 (Col. San Antonio)
Tel. 415-154-8395
Daily 6:30 to 10:00 PM
Sat 8:00 AM to 3:00 PM (Special rates after 4 PM)
Sun 9:00 AM to 1:00 PM
Ross McDonald is the owner and certified personal trainer. There is a large exercise studio with Cybex equipment, treadmills, stairmaster and crosstrainer, weights, aerobics, pilates and stationary bikes. Men and women's showers, sauna and lockers are available.
Santo Domingo Sports Club
Santo Domingo 55 (uphill from Correo)
415-154-7545
Email: spinningsma@hotmail.com
Mon-Fri 7:00 AM to 8:00 PM
Sat 7:00 AM to 2:00 PM
Closed Sunday
Manager trainer Antonio Martinez (bilingual).
Daily, Weekly and Monthly membership.
The weight room has treadmills, weight equipment and stationary bikes.
A 25 meter covered pool
Swim team and classes for adults and kids.
Lockers, showers, steam rooms and good parking
Axis Gym
San Francisco 40
Tel. 415-154-5874
Hours: Mon – Fri 7:00 AM to 9:00 PM
Sat: 8:00 AM to 2:00 PM
Closed Sundays
It has weights, machines and stationary bikes.
Bathrooms available
En Forma Aerobics Studio
Mesones No. 14 (inside second courtyard)
Tel. 415-152-0002
The hours and class schedule: (Mon-Fri) 7:00 AM, 8:00 AM, 7:00 PM, 8:15 PM.
Owned and operated by Linda Cooper
Separate weight room. Personal Trainer also available
Fitness Consultant: Liz Montes (bilingual)
Tel. 415-152-4115
Email: lizmontes@prodigy.net.mx
Certified personal trainer
Training & fitness programs – muscle rehabilitation
Nutritional Counseling. Make Appointment.