Oratorio de San Felipe Nerichurch
---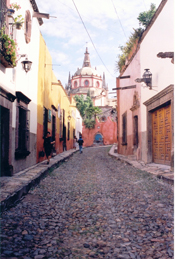 Calles Insurgents and Loreto (El Centro) was built by local Indians in 1712. The original chapel can still be glimpsed at the eastern façade. It is made of pink stone and adorned with the figure of Our Lady of Solitude. The newer Southern Front was built in an ornate Baroque style. The wealthy Count of Canal financed the addition to the Oratorio in 1734. Just behind the Oratorio is the Templo de Santa Casa de Loreto with heavily gilded altars and effigies of the count and his wife and their tombs.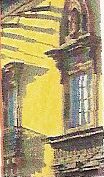 Casa de Ignacio Allende, now a museum (Cuna de Allende 1)
El Centro 415-152-2499 Tues-Sun 10:00 AM – 4:00 PM $3.00
This was the birth place of Ignacio Allende, one of Mexico's great independence heroes. He was a Creole aristocrat who, together with Father Miguel Hidalgo, plotted in the early 1800′s to overthrow the Spanish regime. Spanish Royalists learned of their plot and began arresting the conspirators. In turn, Allende and Hidalgo at dawn on September 16, 1810 rang out the cry of Independence and the fighting began. Allende was captured and executed by Royalists the following year. As a tribute to his brave efforts, San Miguel el Grande was renamed San Miguel Allende in the 20th century. Today it is one of the "museos regionales" whose objective is to present a view of the local area and to explain the roles the region played in the context of national development. It depicts the way of life in the region from pre-hispanic times to the late colonial era. The artifacts are pre-hispanic pottery, colonial furnishings and articles of daily life. All are fascinating. The beauty of the house is also a treat!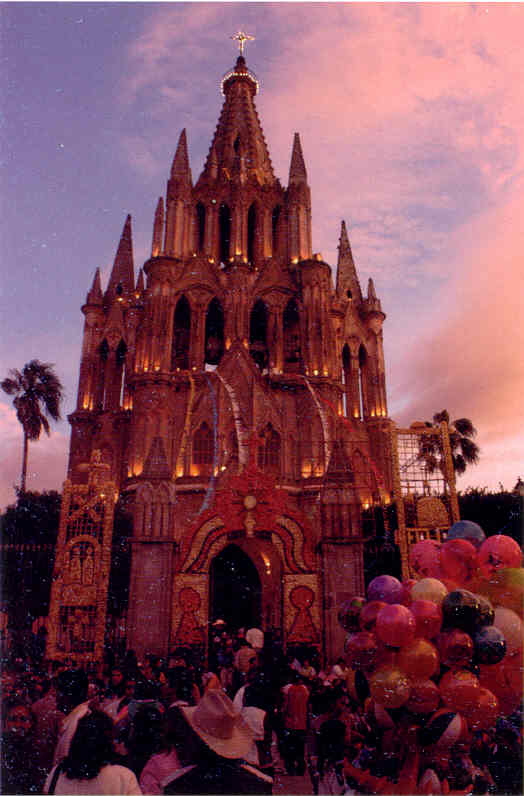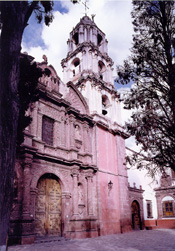 Iglesia de la Concepcíon
---
Located just behind the Belle Artes-Calle Canal between Hernãndez Macias and Zacateros. It has one of the largest domes in Mexico. The 2 story dome (completed in 1891) and the detailed Corinthian columns and pillers are said to have been inspired by Paris's dome of the Hotel des Invalides.
Iglesia de San Francisco
---
Noted for one of the finest Baroque facades and detailed surface decoration in the style of the Spanish architect José Churriquera. (late 18th century) The church was financed by donations from wealthy patrons and with bull fighting revenues. On top of the elaborate exterior is the image of Saint Francis of Assisi.
---
---
The Sanctuary of Atotonilco (Indian word for a place of hot waters)
---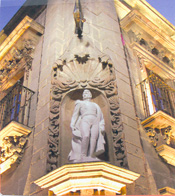 This fascinating sanctuary is a very important religious and historical shrine in Mexico. When you stand on the front steps of this church with the rustic small road in front and the frequent windy days, it is easy to imagine going back in time. The church was built in the mid 18th century by Father Alfaro and was dedicated to Jesus. Small stalls in the front sell whips and crowns of thorns. To this day, pilgrims find their way carrying mattresses and blankets and wearing the crowns of thorns in order to spend a few days in meditation and prayer. Inside the sanctuary one will see the ceilings of the shrine and chapels.
In 1810 Father Hidalgo stopped in Atotonilco during his march against the Spaniards to pick up the standard of the Virgin of Guadalupe before arriving in San Miguel. It was also the church where Ignacio Allende was married. Today, it is listed as a World Heritage site by the United Nations. The countryside in all directions is fascinating. There are many small chapels and alters in the open fields that served old Mexican homes and haciendas.
---
Dolores Hidalgo
---
This was the town where Father Hidalgo launched Mexico's fight for Independence on Sept. 16, 1810 with the "grito," "death to bad government." Every September 15th at 1:00 PM, politicians signal the start of Independence Day festivities with "Viva Mexico!" On September 16th, and only on this day, the bell in Hidalgo's Parish church is rung. Once father Hidalgo's home, Casa Hidalgo is now a museum. It contains copies of important letters and other independence memorabilia.
Calle Morelos 1-418-1820171 $3.00 Tues-Sat. 1):00-5:45, Sun 10:00-4:45
Today, Dolores Hidalgo is a mecca of hand glazed talavera style (ceramic primarily) at reasonable prices. The car ride to Dolores is fun and interesting. There are an array of Mexican antique stores. These are dotted along both sides of the road as one approaches the city. Many of these have their wares scattered over the fields or under open roofs. Prices are great and can provide for great finds!
After shopping, have lunch at El Carruaje Plaza Principal 8 and cross over the plaza for the most exotic ice creams: mole, avocado, beer and corn.
---
Pozos
---
Pozos is a captivating high desert town that was a silver mining center in the late 19th century. Today it is almost a ghost town with abandoned buildings and an echoing chapel. The Casa Montana Hotel is the hub of information and activity in Pozos. A tour of the old mines can be arranged by the owner. The hotel itself has a colonial atmosphere with bougainvillea terraces and guest rooms filled with local artwork, fireplaces and deep tubs.
---
Guanajuato
---
Guanajuato is a beautiful Colonial town with streets that never seem to end; where you would expect, all are crisscrossed with alleys. There is a fascinating jumble of buildings and little plazas that have much the feel of European capitals. The central square is tree-lined and there are musical performances 3 times a week in the plaza's band gazebo. At other times, groups of musicians break into impromptu song along the shaded tile walkways. Guanajuato was once a prominent silver mining city and its cobblestone streets still wind up the mountainside. They are all dotted with colorful local houses. Another fascinating feature, is a vast subterranean roadway, now used for parking. A rushing river once ran through the city and floods finally caused the habitants to move the entire metropolis to higher ground.
45 Minute drive Northeast of San Miguel. Road marked Dr. Mora
It was originally settled by wealthy land and mine owners producing 1/3 of all the silver in the world. For this reason many of it's colonial buildings date back to the 18th century (It's no wonder that it was named a World Heritage site in 1988). The home of Diego Rivera, one of Mexico's foremost muralists and husband of Frida Kalo, is an interesting site to see. Guanajuato was Rivera's birthplace and the house contains his family portraits, furniture, and some works of Rivera himself. Among Rivera's studies is the controversial mural commissioned for New York's Rockefeller Center. The mural had an overall communist direction with a portrait of Lenin. It was therefore destroyed immediately after it was displayed. Guanajuato's famous university was founded in 1732. It was formerly a Jesuit seminary and even then it was designed to blend in with the towns local architecture. The internal bulletin board lists the towns cultural events. Each fall there is the international Cervantes Festival held here.
---
International Cervantes Festival
---
Plaza de San Francisquito 1 El Centro 473-731-1150
For 3 weeks in October, world renowned actors, musicians, and dance troops perform nightly in the Teatro Juarez and other local venues.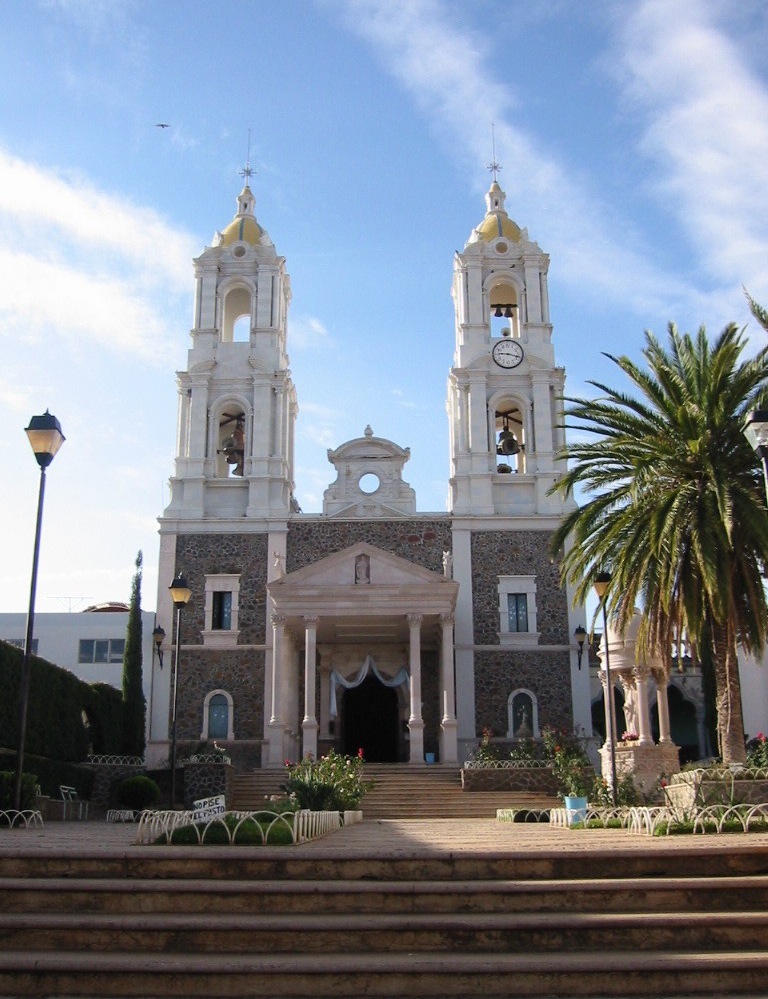 7 Miles North of San Miguel
on the road to Delores Hidalgochurch
There are a variety of museums, gardens, churches, and fortresses to visit. For an interesting dinner stop, try Casa del Conde de la Valenciana. It is the refurbished 18th century home of the former count of La Valenciana. Patio dining is always fun as are the dining rooms. The menu is traditional Mexican with an international flare and some original recipes.
Caretera Guanajuato (Dolores 5 KM)
Opposite La Valenciana Church
Tel: 473-732-2550
After dark, one can catch worthwhile theater in Plazuela de San Roque. Also at 8:00 AM on Sunday when the university is in session, students perform short theatrical pieces in period costumes that look appropriate in the square. They rely more on action than dialogue. It is not necessary to understand Spanish to enjoy it.
---
Morelia Michoácan
---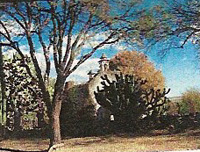 31 Miles North of San Miguel Via Route 51
This is a delightful weekend get away! It is an absolutely charming Mexican city with an aristocratic flare. Long, wide boulevards invite you to stroll through, while outdoor cafes entice you to sit down and colonial mansions in earth tones are a delight to see. These are offices, museums, shops, restaurants and hotels. The magnificent 17th century aqueduct with 253 arches still carries water to the city and is right on the central boulevard. No wonder Morelia earned the status as a Unesco World Heritage site.
1 Hour drive from San Miguel
Several annual festivals indulge Morelianos in their love of music. Each May the International Organ Festival is celebrated in the cathedral with the outstanding 4,600 pipe organ. It features Baroque and Chamber music with orchestras from throughout Mexico. The festival Internacional de Musica is also held the last 2 weeks in July. The Tram (Tranvia Kuanari) is a great way to see Morelia lit up at night. (The Tranvia de la Calle Real departs from Plaza Valladolid Wed-Sun). It also includes a visit to Museo del Dulce and a demonstration on how the city's delicious confections are made.
Sights include, among other things, Parque Zoológico Benito Juárez (the largest zoo in Mexico), many varied museums, the cathedral, the former seminary and Plaza de Armes. The Casa de las Artesanias del Estado de Michoácan is the artisan center dating form the 16th century, where the bishop of Michoácan helped the Indians develop artistic specialties so they could be self supporting.
There are some spectacular restaurants in Morelia with lots of historic charm. Many serve some of Michoácan's tastiest dishes that include: tomato based sopa and corn products such as "huche pos," sweet tamales and corundos (savory triangular tamales and great game such as rabbit or quail).
La Casa del Portal (Guillermo Prieto 30) 443-3134899 or 443-3174217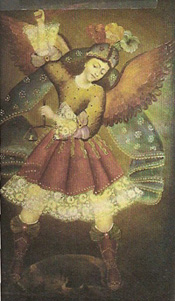 This is a lovely stone mansion facing Plaza de Armas. Most of the wonderful Colonial antique furniture is for sale and quite lovely. The menu includes regional standards such as enchiladas del Portal. Leon Guzmán 47-443-312-6113.
125 Miles Southwest of San Miguel
Fonda Los Mercedes, (Leon Guzmán 47) 443-3126113 No dinner Sundays. This restored mansion has a dramatic narrow entrance topped with round rocks collected from the countryside. This leads to the
plant-filled stone patio. There is an eclectic menu offering lots of soups and 6 kinds of crepes.